Greetings!
I am a psychic and an energy healer. You can find more information about me on this page.
Energy Healing Methods I use
I am a Lightworker. Whatever I do is fully aligned to Light.
I practice my own healing system which I call Pranatherapy. It combines the techniques of bio-energy healing, spiritual healing, psychic healing, entity removal, Project Sanctuary work, and pranic healing.
 "How Can This Be Useful For Me?"
'Healing a broken heart' – energy help in recovering from a broken relationship.
Aura reading. Aura balancing.
Pranic facial (energy facial).
Preventive energy healing: repairing tears in the Aura Protective Membrane, cleaning, aligning, and balancing the auric field.
Energy healing support in physical ailments: injuries, infections (respiratory, urinary, etc.), back pain, joint pain, gastrointestinal disorders, respiratory tract disorders, allergies, etc.
Energy healing for kids (exam stress, physical injuries, unexplained physical discomfort ("we have conducted all possible tests, everything is normal") )
Energy healing support in psychological conditions: depression, phobias, anxiety-related problems, low self-esteem, stress, etc.
Energy healing for animals (healing for dogs and other pets).
Confidentiality Policy
I maintain strict confidentiality. All the client's files, photographs, and records (if any) are kept safe and secure till they are required. The same will be deleted after the need for them is over.
What Exactly Does an Energy Healer Do?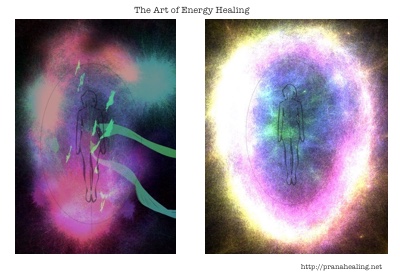 Though emotional injuries are located in our subtle body and not in the physical one, they are very real and can hurt like hell… and they take a long time to heal on their own if they ever heal at all.
Similarly, negative thoughts can create so much disturbance in our energy body that we may become sick physically.
Certain issues can be easily corrected with the help of the 'healing hands' and the 'energy mind'.
Healing work includes energy field clearing, removal of parasitic entities, cords, and implants; aura alignment and balancing;  increasing the energy level and protection.
One Session Energy Healing
In many cases, one session of energy healing is enough.
This does not mean that one session will heal you completely, remove all the problems that have been troubling you for years, and you ever be carefree.
What this means is that one session of energy healing would be enough in many cases – to help the person perceive the roots of their problem and understand the correct way of resolving it.
A clean and charged energy body translates into a faster rate of healing of the physical body.
A clean aura means more peace within, more internal strength (we call it 'emotional immunity'); and a brighter mind. This enables the person to assume better control over their life.
Fees
To new clients, I may offer a free 20-minute consultation (face-to-face sessions only).
Energy healing session (in-person or remote) – Rs. 2000-3000 / 50 min.
Home visit– Rs. 6000 / 50 min. Second client – Rs. 2000-3000.
Overseas charges – USD 110 per remote healing session.
PayPal is accepted.
For a remote healing session, I will require:
1. Recent photograph with eyes visible.
2. Full name at present, full name at birth, date of birth, place of birth, present geographic location.
3. An advance payment.
All the services offered by the healer do not replace medical treatment but complement the receiver's journey to better health.