Infected Parotid Gland – Swelling Declined
Name – Kanika Chaudhry
Address – East of Kailash, New Delhi
Age – 28
Complaint – Swollen Cyst on the Parotid Gland
Healer – Ajay Pal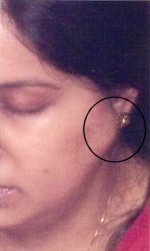 In November 2010, I developed a swelling near my left ear. As I was pregnant, the ENT specialist who had diagnosed it as an infected parotid gland put me on a course of mild antibiotics, but to no relief. The swelling, though subsided a bit initially, grew again in size and hardness. After that, I went for FNAC pus test and was again put on another course of antibiotics. The swelling remained intact. So, eventually, the doctor decided that post delivery, he would surgically remove the infected gland/cyst, as he claimed it was dead and non-functional. The surgery involved a lot of complications as the facial nerve could have been damaged during surgery, and scarring near the ear was a high probability and several other courses of antibiotics would have followed.
After knowing about all this, my worried father-in-law, who had prior exposure and experience with Pranic Healing, consulted Mr. Ajay Pal, a great healer and I started going for healing sessions. After a few sessions of cleansing and energising of the concerned chakras, the swelling regressed and declined progressively. Within a few weeks of healing, the cyst ruptured and the swelling disappeared, leaving just a small base behind.
This is something miraculous and an incredible experience of my lifetime, as I got healed without any cuts, incisions or medicines. I am very grateful and indebted to Mr Ajay Pal for healing me and this has made me believe that Pranic Science is a very strong art of healing.
Thank you.
Yours Sincerely,
Kanika Chaudhry
(New Delhi, May 2011)
Lump on Right Jaw Disappeared
I would like to thank Capt Ajay Pal for treating me of a lump which persisted on my right jaw for over 5 weeks. It had all of us worried for the same. The lump was painful and medical doctors thought it to be some dental problem… which was not so on further diagnosis. I contacted and met Ajay Pal for the same. He treated me for the same in the form of pranic healing. I had about 8 sessions for the same and the results were that the lump subsided completely.
Pranic healing really works and so does the healing power of Captain Ajay Pal.
Thanks and in full regards,
Neeta Chopra
Gurgaon
9810658109