Healing Workshops
We conduct the following healing workshops:
Pranatherapy, Levels 1, 2, and 3, facilitated by Yulia Pal.
Other workshops, as announced.
---
Trainers
Energy Healing workshops are conducted by Ajay Pal, Yulia Pal, or as announced.
---
Duration
Two full days, normally on weekends – Saturday and Sunday, from 9:30 a.m. to 5:30 p.m.
Flexible days and flexible lesson time options are available for individuals or groups.
---
Workshop Fee Details
The workshop fee is as announced.
The workshop fee includes:
Lunch and refreshments.
Workbook as announced.
A minimum deposit of Rs. 4000 is required to register. Participants will not be registered into the program until the advance payment is received.
The balance can be paid on the first day of the workshop.
Cancellation and Refunds Policy.
Lunch
We provide Indian vegetarian lunch (two types of vegetables, dal, rice, and roti) for the group.
If you follow a special diet (low-carb food, Lactose-free, gluten-free, etc.), kindly make your own arrangements for lunch.
---
Payment Methods
How to make an advance payment.
---
Certification
We issue Karuna Wellness – Centre for Self Development certificates of participation.
We are not affiliated with any organization. We teach our proprietary workshops.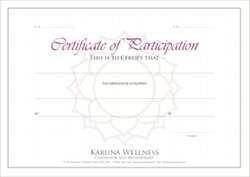 ---
Venue
The venue for workshops: as announced.
---
Language
The training sessions are conducted in English unless specified otherwise. Instructions in Hindi or Russian languages are available on request.
---
Some frequently asked questions
Q. Do I need to bring anything with me?
A. If you wish, you may bring a notebook and a pen to make notes. Though taking notes will not be required.
Lunch, tea, and drinking water are provided by the Center.
Q. What kind of clothes should I wear?
A. Wear comfortable, casual clothes, preferably made from natural fibers.
Q. Is it OK to wear jewelry for the class?
A. We advise to avoid wearing rings as they tend to get contaminated during energy healing practice.
Q. Do I have to bring a yoga mat?
A. We have a chair-sitting arrangement. Those who prefer to sit on the floor can use our special cushions.
---
To enroll and for more information, please contact
Yulia at shkolaprana@gmail.com or the coordinators, as indicated.