Start using your collection of crystals for healing and other purposes!
(A practical training)
Become an effective crystal healing practitioner.
Understand your crystals and gemstones.
Discover the magic of crystals.
Learn how to prepare your crystals for work.
Learn how to use crystals for healing and 'stone magic' work.
Learn what else you can do with your crystals.
Learn crystal meditations.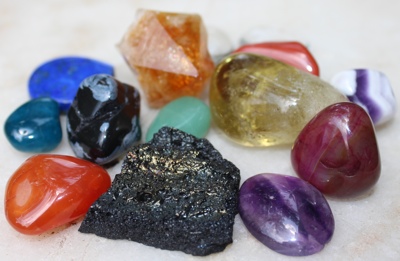 This workshop will teach you the foundation of energy work with crystals so you can start using your stunning collection of minerals for healing and other purposes.
Trainer: Yulia Pal, a crystal healing practitioner since 1997.
Duration: two days.
Open for all.
What to bring with you: your own collection of crystals, a crystal pendulum for practice, and a cotton napkin to keep your crystals on.
Handout material: Illustrated notes in pdf format on 30 pages.
Fee: Rs. 10000.
Certification: you will receive a certificate of participation issued by Karuna Wellness – Centre for Self Development.
In the program
How to choose "your" crystal?
Get to know your crystal
Crystals that are used in healing
Essential properties of crystals
Crystal processing techniques (practice)

Cleansing, Clearing, Charging, Activating Dedicating (or programming), Consecration

Methods of programming your crystal (practice)

Charging your stone with stardust (meditation)

Laser crystals and wands

How to use laser crystals and wands for chakra healing
Energy Facial with Crystals
How to create a protective pendant for yourself
Strengthening the aura and grounding by using crystals
Programming crystals for protection
Properties of color crystals
Laying on of stones – Creating a crystal grid
Magic pouches / 

Healing Stones

Crystal pendulums. How to work with a pendulum.

Family grid work.
Other grids.
How to unfold the essence of the stone (a Sanctuary approach)

Etheric Crystals and how to use them.

General handling precautions for crystals.
Crystal Light Fall meditation.