With the help of the candle flame, we can cleanse the entire aura of heavy, low-vibrational, dark energies.
It is useful when:
– you feel energetically contaminated with "dirty" energies,
– you feel you have been subjected to an "evil eye" attack.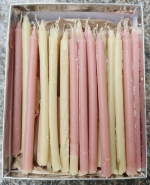 I use self-made candles and my own aura-cleansing procedure.
Fee: Rs. 2000 per session.
Duration of the session: about 30 min.
Contact: Yulia, shkolaprana@gmail.com.